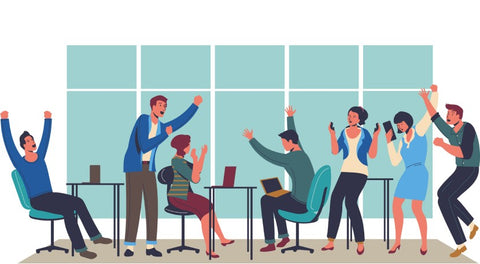 Join the Hiketron Team
Be a Part of Hiketron: Where Innovation Meets Sustainability for a Cleaner Tomorrow
Why work with us
Our Inspiring Story
At Hiketron, our journey began with a deep passion for sustainability. We're not just another company; we're on a mission to transform the cleaning products industry. Join us in making a positive impact on the world.

Career Growth and Fulfillment
When you work with Hiketron, you're not just an employee; you're part of a team committed to growth and fulfillment. We offer a supportive environment that nurtures your skills and helps you realize your potential.

A Greener Future
We're dedicated to creating products that are good for the environment and good for you. Join us in the movement to redefine 'green' cleaning. Your work here will contribute to a greener, healthier future for all.
Job Posts
Social Media Associate, Video Editor
We are seeking a seasoned Social Media Associate with a knack for video editing to join our dynamic marketing team. This role is crucial in building and sustaining an engaging online presence, reflecting our brand's vision, and promoting our environmentally friendly laundry products.
Key Responsibilities:
Create, curate, and manage published content across various social media platforms including Facebook, Instagram, Twitter, and YouTube.
Craft compelling multimedia stories that enhance brand recognition and customer engagement.
Edit and produce high-quality video content that aligns with our brand's message and aesthetic, using cutting-edge video editing tools and techniques.
Monitor, listen, and respond to users in a "Social" way while cultivating leads and sales.
Collaborate with the marketing team to create a social media calendar and marketing campaigns.
Track and analyze the performance of social media campaigns to ensure they meet organizational goals.
Stay up-to-date with digital media trends, platform updates, and industry developments to ensure the brand remains ahead of the curve.
Qualifications:
Bachelor's degree in Marketing, Communications, or a related field.
At least 2 years of experience in social media management and video editing.
Proficient in video editing software such as Adobe Premiere Pro or Final Cut Pro.
Strong understanding of social media platforms and their respective best practices, including experience with social media advertising.
Exceptional communication, organizational, and time management skills.Ability to work independently and as part of a team.
Creative mindset with a strong attention to detail and ability to work under tight deadlines.
Executive Assistant/Customer Service Representative
About Hiketron:
Hiketron is a premiere manufacturer of luxurious homecare and personal
care products. We specialize in innovative laundry detergents and are committed
to redefining sustainable laundry care with our eco-friendly and efficient
products.
 Job Description:
We are seeking a dedicated Executive Assistant/Customer Service
Representative to join our dynamic team. This role combines administrative
support to our executive team with providing outstanding customer service.
You'll be the face and voice of Hiketron, embodying our commitment to quality
and sustainability.
 Key Responsibilities:
Provide administrative support to executives,
including scheduling, correspondence, and project management.
Handle customer inquiries via phone, email,
and social media, ensuring a high level of customer satisfaction.
Process orders, handle returns, and resolve
customer issues in a timely and effective manner.
Collaborate with various departments to
improve customer service procedures, policies, and standards.
Manage and update customer databases with
attention to detail and accuracy.
Assist in organizing company events and
meetings.
Contribute to the creation of written materials such as reports, presentations, and internal communications.
Qualifications:
Proven experience as an executive assistant,
customer service representative, or in a similar role.
Excellent written and verbal communication
skills.
Strong organizational and time-management
abilities.
Proficiency in MS Office and CRM software.
Ability to multitask and prioritize daily
workload.
High level of discretion and confidentiality.
A customer-oriented approach with a passion
for delivering exceptional service experiences.
Preferred but Not Required Skills: