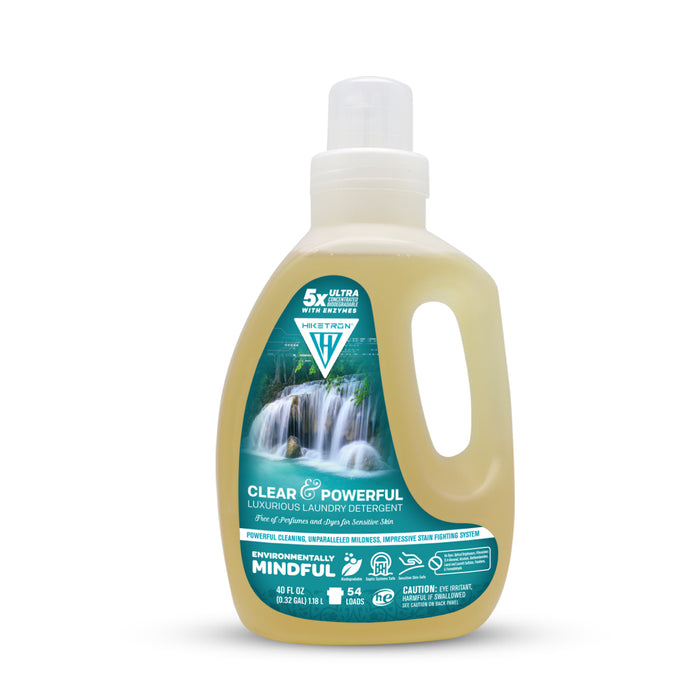 Hiketron 5X Ultra Concentrated | Scent Free Liquid Laundry Detergent | Removes Tough Stains | Machine Friendly | Natural Enzymes | Clear & Powerful
SKU
5X-LLD-40-OZ-00-FBM-CP
Our 5x Clear & Powerful liquid laundry detergent formulation is crafted with plant-derived ingredients, safe synthetic polymers, and 6 bio-enzymes that offer powerful cleaning, unparalleled mildness, and an impressive stain-fighting system. It can be used as a stand-alone nonscented laundry detergent, a pre-spotter, and a stain remover, replacing chlorine bleach and oxygen bleach.
Clear & Powerful is designed for all fabrics, however not all fabrics respond the same when it comes to scent, so go on and explore to find out what fits your lifestyle. It is perfect for items such as bed sheets, comforters, washable pillows and pillowcases, blankets, and kitchen towels.
The enzymes not only whiten your clothes but also soften them and preserve their structure, preventing further damage. With Clear & Powerful, you can trust that your clothes will come out looking and feeling fresh and clean, without any harsh chemicals or overpowering fragrances.
Benefits

5X Ultra Concentrated products and biodegradable using sugar-based surfactants
Contains a super blend of 6 bio-enzymes to remove tough stains
Softens fabrics and keeps your clothes fresh without fragrance
Safe on all fabrics, colors & whites
Free of dyes, optical brighteners, phosphates and dioxane, lauryl sulfates, laureth sulfates, parabens, and formaldehyde
Could be used as a Pre-Soak or as a standalone detergent
Specially packaged in a 40 fl. oz bottle for easy storage & handling
Designed for hand washing, standard, and high-efficiency machines
Enhanced energy and water efficiency with cold or warm water washing
Safe for septic systems and greywater
Directions

Follow apparel care instructions. For tough stains pretreat by pouring the clear & powerful liquid laundry detergent directly onto the fabric, rub gently and soak for  1 hour or overnight if the stains are big. Use Dispenser for HE washers. For Standard washers, start the washer, add detergent to water, then add clothes.
Based on our testing, the following dosages will guide you to determine the correct amount needed per load. Customers are free to try more or less of the recommended amounts to fit their lifestyle.
| Washing Type | Small & Medium Loads | Heavy Soiled Loads | Fill Line |
| --- | --- | --- | --- |
| High-Efficiency Machine (HE) | 0.4 fl oz | 1 fl oz | 1 (0.4 fl oz)/ 2 (0.75 fl oz) |
| Regular Machine | 0.75 fl oz | 1.5 fl oz | 3 (1 fl oz) / 4 (1.5 fl oz) |
| Hand Wash | 0.75 fl oz | 1.5 fl oz | Brimful (1.8 fl oz) |


Gallery