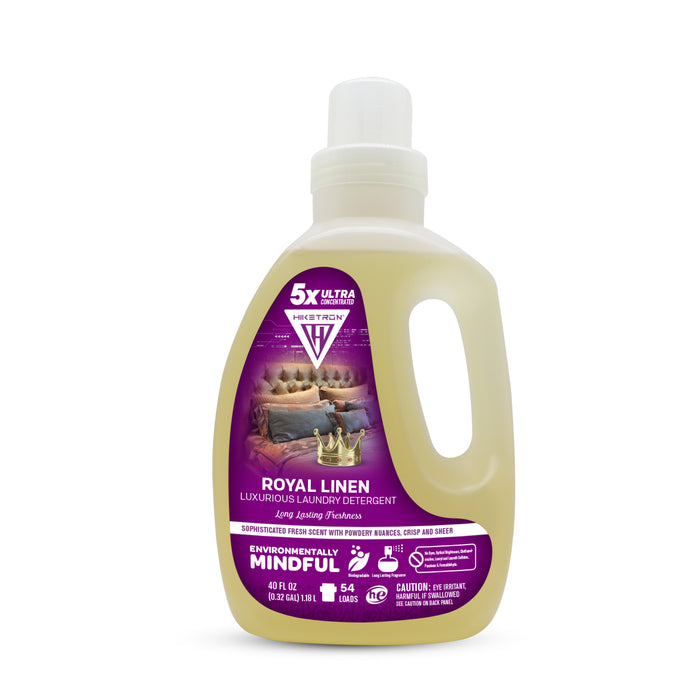 Hiketron 5X Ultra Concentrated | Long Lasting Scented Liquid Laundry Detergent | Removes Tough Stains | Machine Friendly | Royal Linen
SKU
5X-LLD-40-OZ-01-FBM-RL
Our royal linen liquid laundry detergent formulation is crafted to deliver a lasting fragrance on all your fabrics. Indulge yourself with a classic and sophisticated fresh scent with powdery nuances, crisp and sheer, with notes of white musk and sandalwood base and impress your guests with a luxurious feel and smell of towels and linens.
Benefits
5X Ultra Concentrated Products
Biodegradable using sugar-based surfactants
Safe on all fabrics, colors & whites
Free of dyes, optical brighteners, phosphates and dioxane
Delivers a long-lasting scent and eliminates body odors
To achieve a long-lasting scent there is no need for

Scent boosters
Fabric softeners
Dryer sheets

Specially packaged in a 40 fl oz bottle for easy storage & handling
Designed for hand wash, standard and high efficiency machines
Enhanced energy and water efficiency with cold water washing
Helps in softening fabrics and reduce wrinkles
Safe to use with chlorine bleach or oxygen bleach 
Directions

Follow apparel care instructions. For tough stains pretreat by pouring the Royal Linen liquid laundry detergent directly onto fabric, rub gently and soak for  1 hour or overnight if necessary. Use Dispenser for HE washers. For Standard washers, start washer, add detergent to water, then add clothes.
Based on our testing, the following dosages will guide you to determine the correct amount needed per load. Customers are free to try more or less of the recommended amounts to fit their lifestyle.

| Washing Type | Small & Medium Loads | Heavy Soiled Loads | Fill Line |
| --- | --- | --- | --- |
| High-Efficiency Machine (HE) | 0.4 fl oz | 1 fl oz | 1 (0.4 fl oz)/ 2 (0.75 fl oz) |
| Regular Machine | 0.75 fl oz | 1.5 fl oz | 3 (1 fl oz) / 4 (1.5 fl oz) |
| Hand Wash | 0.75 fl oz | 1.5 fl oz | Brimful (1.8 fl oz) |
Gallery